I mentioned last week that my heart was full. It is filled with thankfulness to God. Back in January I began to feel as though it was time for a change, and after much prayer  and counsel with trusted men, I decided that the change that needed to be made was with my job.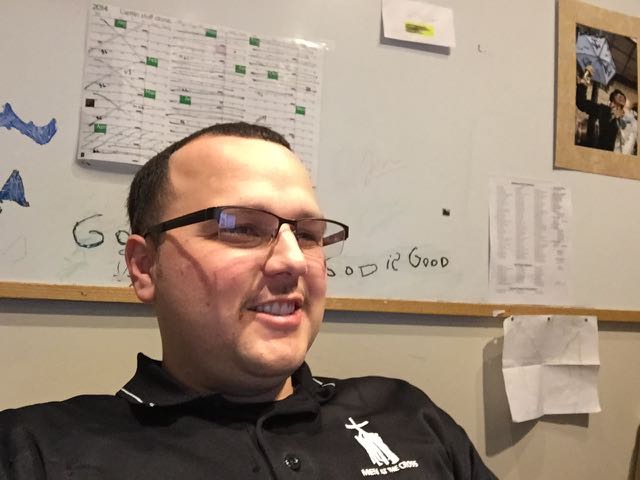 I have worked at Bethlehem Baptist Church as their Event Coordinator for the past three and a half years. I've found this job to be a gift from God and very fulfilling. The folks at Bethlehem have been a delight to work with and the job provided the flexibility I needed to be able to go back to college at 30. They paid enough for my family and I to get by, but not much more, since it's a church and funds are limited.
Nevertheless, God has been immensely faithful to us in many ways. From anonymous gifts to help from our parents, He has provided for us beyond our needs during the last few years. Not only that! We have learned through hardship how to trust him to be our provider in all things. So many times, at just that point in the month when I could not stretch the check anymore, the Lord would come through. Sometimes though, he wouldn't provide in the way we expected, and would surprise us by sustaining our faith through lack. Indeed, his grace has been sufficient for us!
Back to January … When I finally decided to start looking for a job, I found an IT Help Desk position at a lawyer's office that looked like it was right up my alley. I sent my résumé through the mail on Monday, and by Wednesday had received a phone interview from them! After the phone interview they invited me to come in for another interview on Friday. Needless to say, this was all very encouraging, considering that this was the very first résumé I sent out! I didn't get the job, but did feel very strongly confirmed that I was moving in the right direction.
I spent the next several months sharpening my skills and improving my résumé. I also decided to change the direction of my career move. Prior to working at Bethlehem, I was working as an IT Manager at an oilfield company, and initially aimed this career move in that direction. However, as I thought about this move, I really wanted it to be a strategic step in the ministry path I feel that God is moving me towards. So I wanted to find a position in which I would be able to develop skills that would eventually provide me with decent pay and discretionary time, so that I could really give myself to ministry. I started in earnest to build my web development skills, and began to market myself to web shops in the Twin Cities.
I am excited to say that just last week I accepted a job offer at Digital Solutions! The position I will fill is not exactly what I was looking for, but I feel that it will still serve the purposes that I set out to achieve. I am very excited about this next step in our journey, and very hopeful for more of God's grace in our life. That said, I will miss my Bethlehem family very deeply. I have enjoyed serving the body of Christ as well as the neighborhood with them from the bunker on the first floor in Downtown Minneapolis.
Please pray for my family during this transition, as I will be going from a 30 hour/wk job, to full time at about 45 hours/wk. Next week, I'll explain how ministry might look for us in the next couple years, and how you can be praying for that.