My heart is full. Very full. It's full for a number of reasons that I'll try to get to over the next couple of weeks, Lord-willing. For now, I'll start with my wife's van breaking down on Friday afternoon. That may not sound like such a great thing, but I think you'll find that I have a good reason to be thankful after I tell you what happened.
Before I tell you about it though, let's rewind to my teenage years, and my bright orange Volkswagon Beetle. She costed all of $300, didn't run, had a big hole in the floorboard, and no carpet.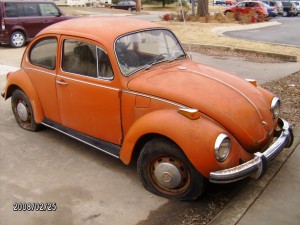 But she was all mine. After I bought it, I spent the next several weeks getting the rat nests and spider webs out, fixing the major body problems, and of course, covering the hole in the floor.
For the engine work, my dad, a helicopter mechanic in the Vietnam War, and owner and operator of The Import Clinic in Houma for 20+ years, would come outside with me, grab a chair and point out what tools I needed and what I needed to do. He'd throw a hand in once in a while and help me out, but for the most part, he'd sit back and watch, and tell me what to do.
After we got the Bug road ready, whenever I would have problems—whether a brake job or changing points—it would always be the same thing. I'd call Pops and he'd come around, pull up a seat, and show me what to do. At the time it was a little frustrating because I would have preferred for him to just do it. The job would have gotten done a lot faster, and best of all, I wouldn't have to do it.
Thankfully, my dad knew better than I did, and he knew that it is much better to teach a man to fish than to give him fish. Or, in my case, it was much better to teach me to fix my own car than to fix it for me.
Fast-forward to last Friday. Teri calls me a block away from our home and says the van broke down. What might have included a tow and trip to the mechanic, totaling probably around $200, costed me $20 and a Saturday afternoon. Because of my father's diligence in training his son for life, I was able to get my van back to the parking lot of my home, and spend the afternoon passing down to my own boys what my Dad passed to me—training and discipleship in some very practical areas of life.
Hear, my son, your father's instruction, and forsake not your mother's teaching, for they are a graceful garland for your head and pendants for your neck.—Prov 1:8–9